RIPOZ CARRIES OUT THE FOLLOWINGFUNCTIONS
- CLEANING
- RINSING
- STORING
- DISINFECTING
- WEARING/LUBRICATING
- PROTEIN REMOVING
FEATURES OF RIPOZ
- RIPOZ IS SUITABLE FOR CLEANING AND DISINFECTING ALL TYPES OF SOFT CONTACT LENSES.
- EXCESS COMPONENTS, TO OBTAIN AN EXCELLENT PRODUCT, CAN PROVOKE ALLERGIES AND DISCOMFORT IN USERS.
- RIPOZ IS GENTLE ON THE EYES BECAUSE ITS FORMULA IS MORE BALANCED IT INCORPORATES
- THE EXACT COMPONENTS AND THE MINIMUM QUANTITIES NECESSARY TO OBTAIN EFFICIENT RESULTS.
- RIPOZ PROVIDES OPTIMUM BALANCE BETWEEN SAFETY AND EFFICIENCY.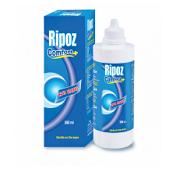 FEATURE OF GREEN O2
- GREEN O2 IS A COMPLETE SYSTEM FOR THE MAINTENANCE OF ALL TYPES OF CONTACT LENSES
- GREEN O2 MAKES WEARING LENSES MORE COMFORTABLE AND PROLONGS WEARING PERIODS, ASENSITIVE USER MAY WEAR LENSES FORAN AVERAGE OF TWO HOURS OR MORE PERDAY
- NO PRESERVATIVES AND DOESNOT CAUSE ALLERGIES
- GREEN O2 IS AN ALL-IN-ONE PRODUCT THAT CLEANS+DISINFECTS+REMOVES PROTEINS FOR ALL TYPES OF LENSES
- GREEN O2 IS A COMPLETE PRODUCT THAT NEEDS NO ADDITIONAL SOLUTIONS, NORADDITIONAL ENZYMATIC WEEKLY CLEANING. THE LENSES ARE PERFECTLY CLEANED WITHOUT RUBBING