DAILY

FEATURES OF ANY-1DAY (DAILY) LENS
Any-1DAY'S (DAILIES) SMOOTH SURFACE AND UNIFORMLY EDGE DESIGN MADE BY ULTRA-PRECISION MOLD AND IT PROVIDES COMFORTABLE AND CONTINUING MOISTURIZE ALL DAY LONG.
STATE-OF-THE-ART ULTRA-PRECISION MOLD:CONTROLLED±5 MICRONS
SMOOTH SURFACE FABRICATION MAKES THE BEST OPTICALS SURFACE
UNIFORMLY EDGE DESIGN MAKES THE COMFORTABLE
ANY-1DAY (DAILY) IS ABLE TO CORRECT LOW-ASTIGMATISM DUE TO ITS ASPHERIC DESIGN.
EASY OF HANDLING
DESIGN FEATURE OF ANY-1DAY (DAILY)
UNIFORMLY AND THINNER EDGE DESIGN:IT IS 1/2~1/3 THINNER THAN OTHER LENSES SO THAT GUARANTEE THE COMFORTABLE
TANGENTIAL DESIGN: TANGENTIAL DESIGN CONSTANT FOR EXCELLENT LENS DRAPING AND CONSISTENT FITTING CHARACTERISTICS ACROSS A WIDE RANGE OF CORNEAL TOPOGRAPHIES, INCREASING YOUR FITTING EFFICIENCY.
ANY-1DAY (DAILY) LENS IF THE RESULT OF CONTROLLED THICKNESS TECHNOLOGY IN THE CONTACT LENS MANUFACTURING. IT ALSO PROVIDES GOOD LENS HANDLING. THEREFORE, IT DOESN`T MATTER EVEN IF YOU ARE A BEGINNER, AS YOU WON`T HAVE ANY DIFFICULTLYWITHLENS HANDLING.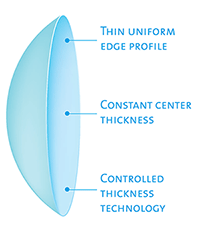 ANY-1DAY (DAILY) SPECIFICATIONS
COMPARTMENT
ANY-1DAY (DAILY)
MATERIAL
FILCON A / POLYMACON
WATER CONTENTS
58%/38%
OXYGEN PERMEABILITY
18DK
DIAMETER
14.2MM
BASE CURVE
8.6MM
POWER
-1.00~-10.00
(-0.25 STEP, 0.5 STEPS ABOVE -5.50D)
CENTER THICKNESS
0.07MM AT -3.00D
COLOR
TINTED BLUE
Anyday Bi-Weekly / Monthly

FEATURE OF ANYDAY WEEKLY & MONTHLY LENSES

ANYDAY 2 & 6 PACK CONTACT THIN UNIFORM EDGE PROFILE WHICH ASPHERIC CURVE IS CUT IN TANGENT CAN RESULT IN WEARING COMFORT AND MINIMIZES ADAPTATION.

THIN EDGE DESIGN: THINNER 1/2~1/3 THAN OTHER LENSES.

ANYDAY DESIGNED BACK PERIPHERAL ASPHERIC DESIGN FOR THE ASPHERIC CORNEAL SHAPE.

ANYDAY IS ABLE TO CORRECT LOW-ASTIGMATISM DUE TO ITS ASPHERIC DESIGN. (UNDER 0.75D CYLINDER)

EXTREME COMFORT

EASY ADAPTATION
CONSTRUCTION OF ANYDAY WEEKLY & MONTHLY LENSES
SPECIFICATION OF BI-WEEKLY & MONTHLY LENSES

COMPARTMENT
MONTHLY
BI-WEEKLY
MATERIAL
POLYMACON
METHAFILCON A
WATER CONTENTS
38%
55%
DIAMETER
14.2MM
14.2MM
BASE CURVE
8.6MM
8.7MM
POWER
+10.00~ +6.50(0.50 step)
+6.00~ -6.00(0.25 step)
-6.50~ -15.00(0.50 step)
+10.00~ +6.50(0.50 step)
+6.00~ -6.00(0.25 step)
-6.50~ -15.00(0.50 step)
CENTER THICKNESS
0.08MM AT -3.00D
0.08MM AT -3.00D
REPLACEMENT SCHEDULE
1MONTH
2WEEKS